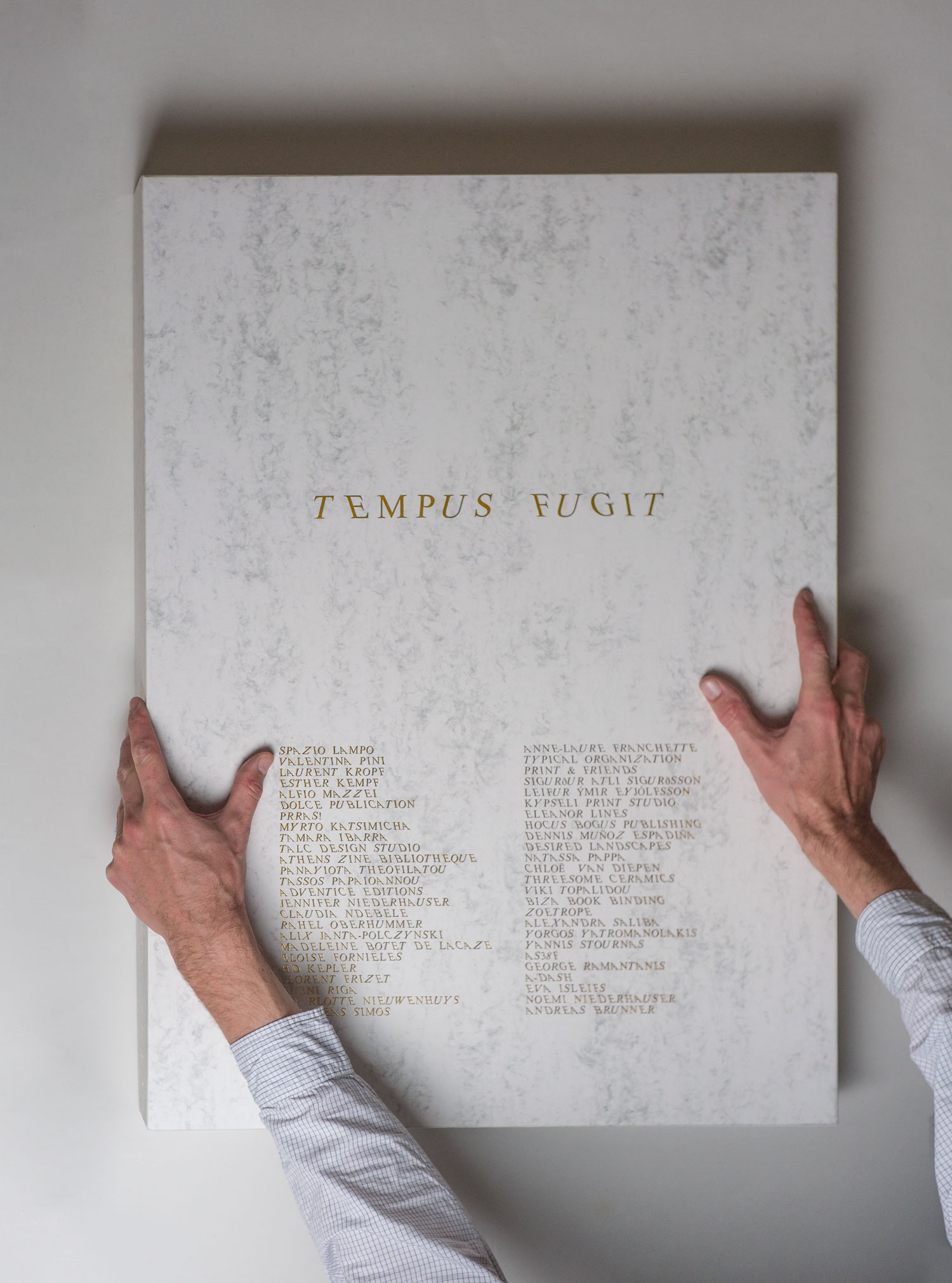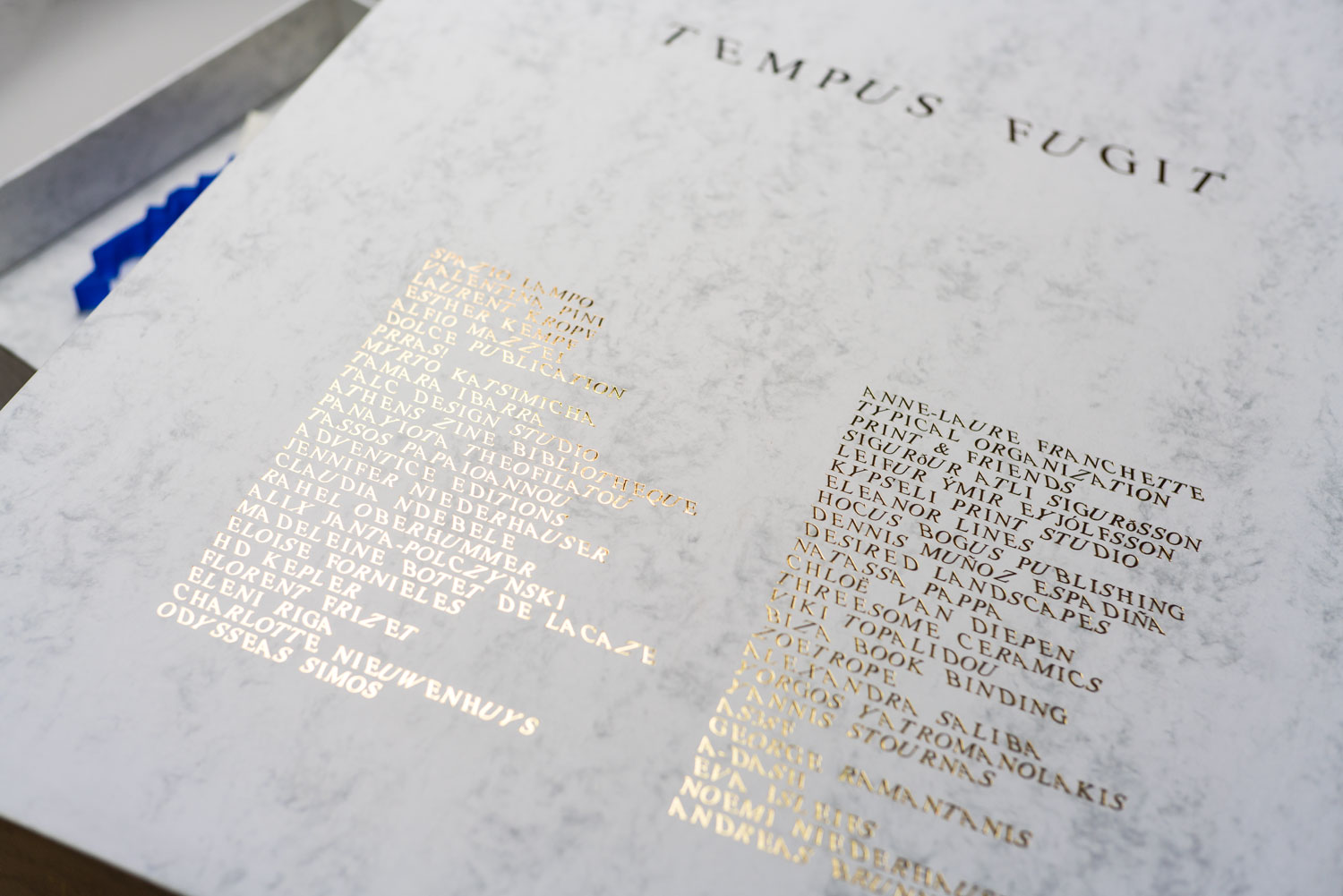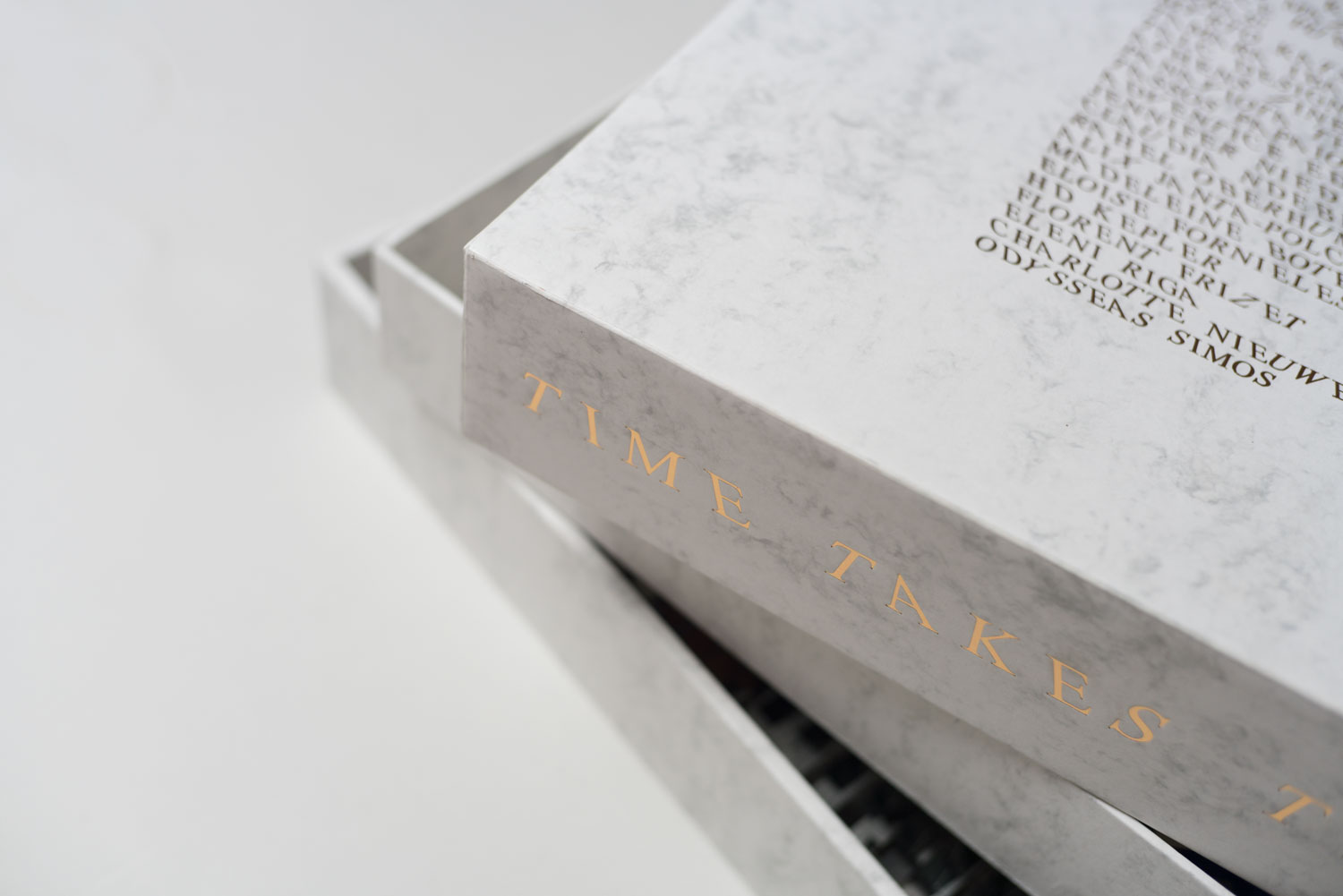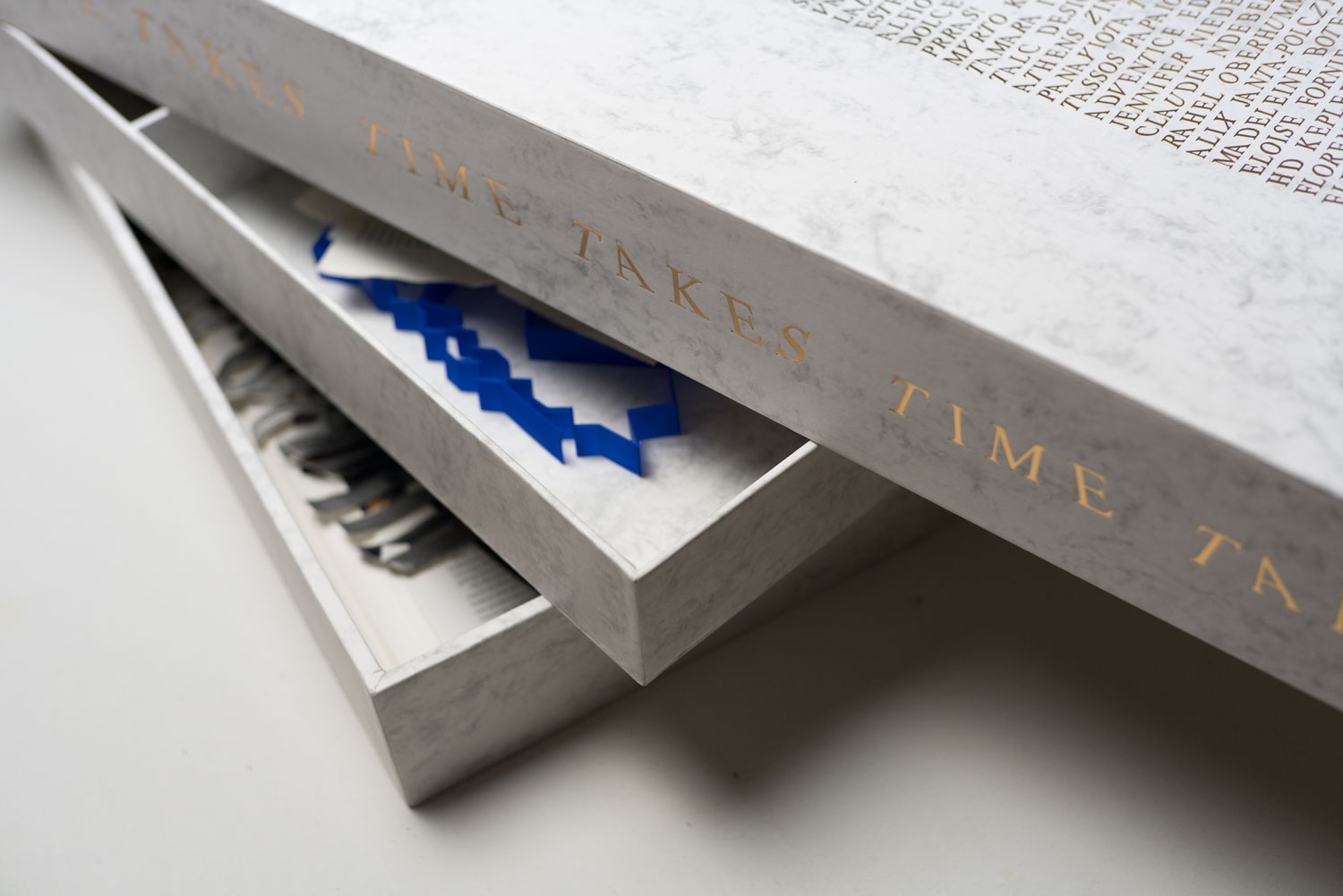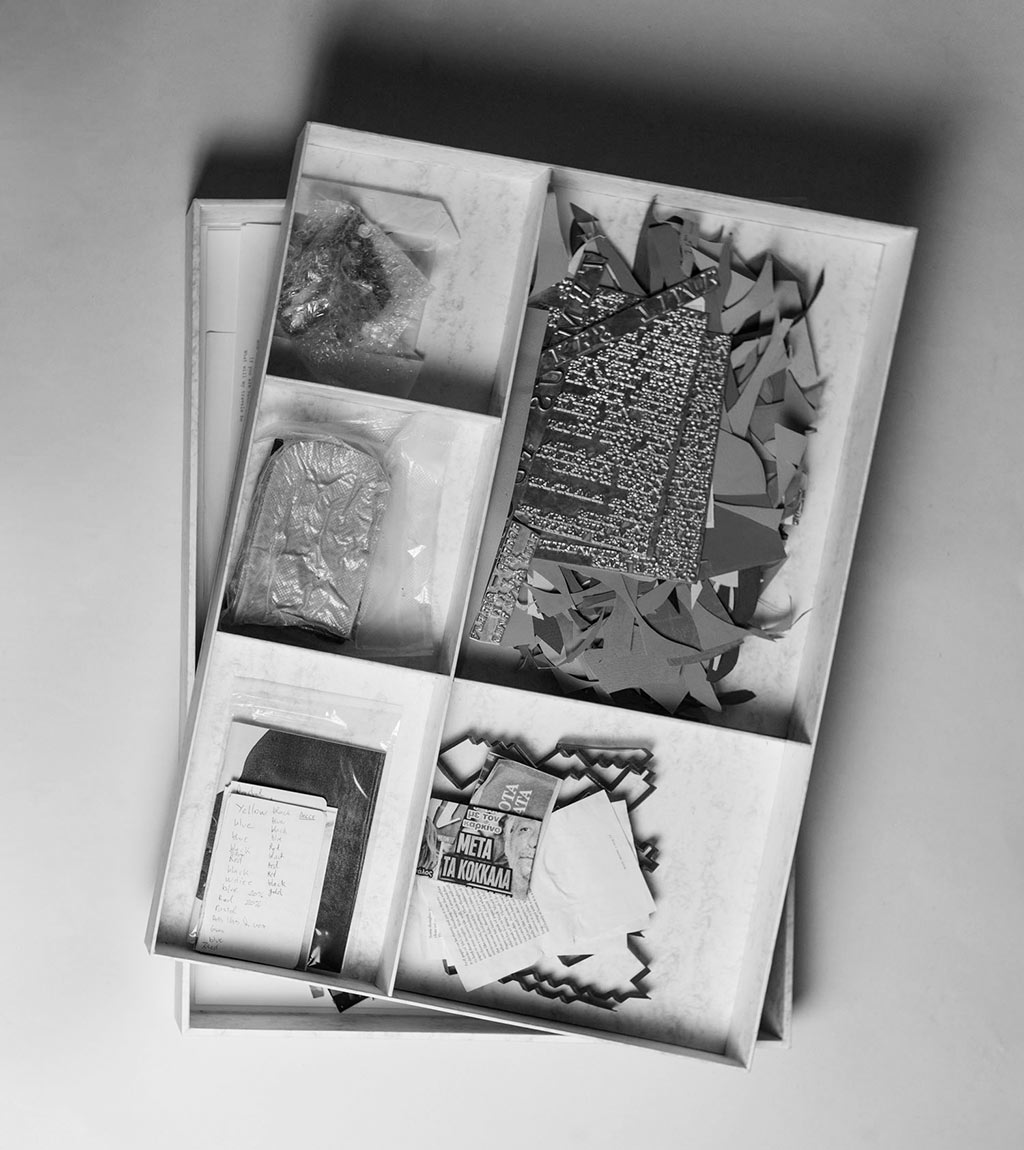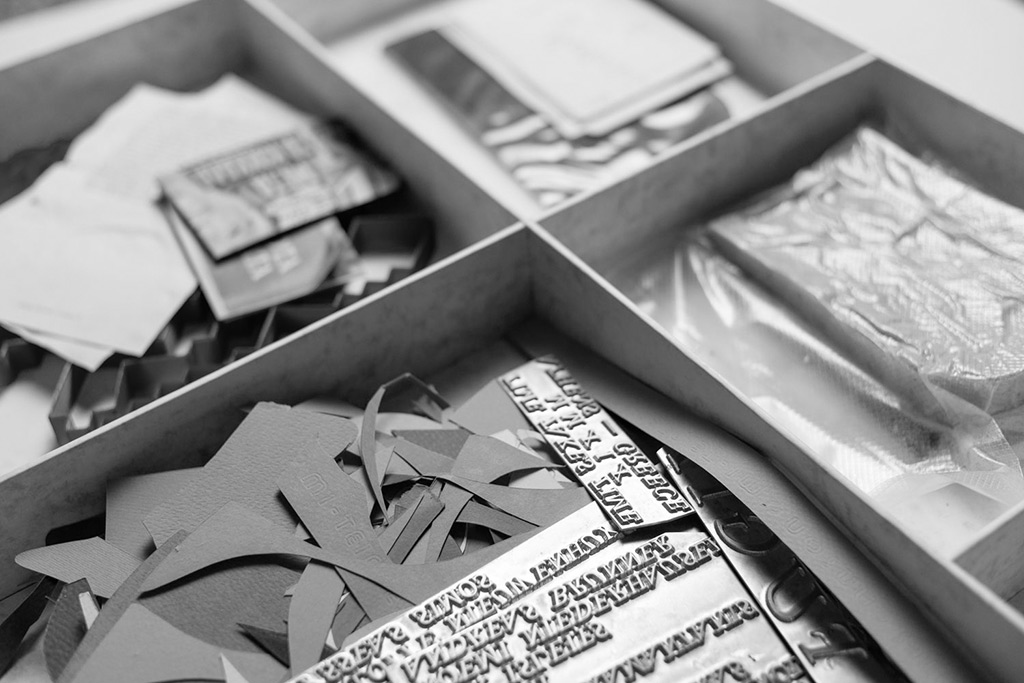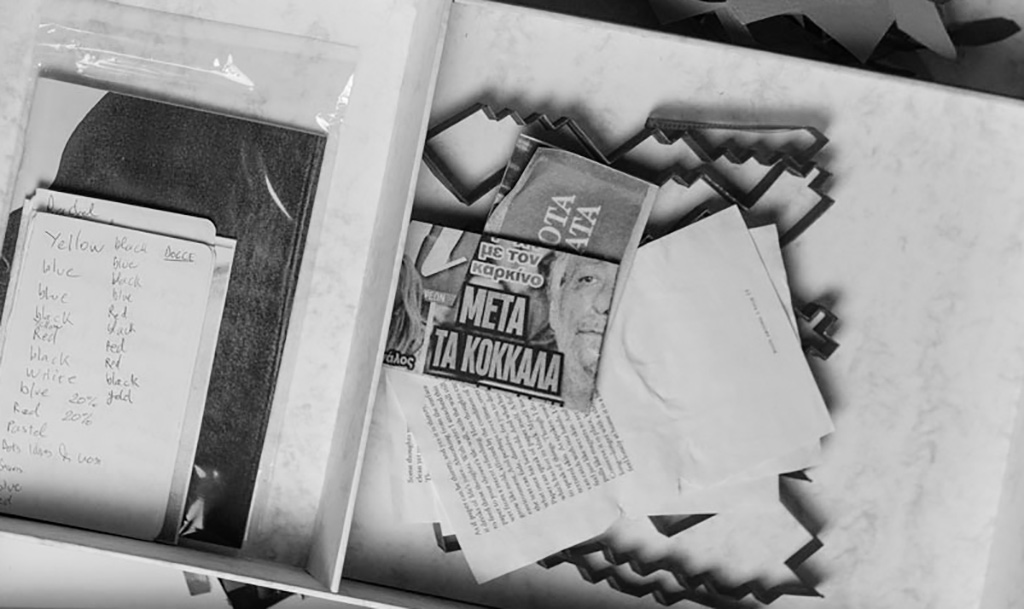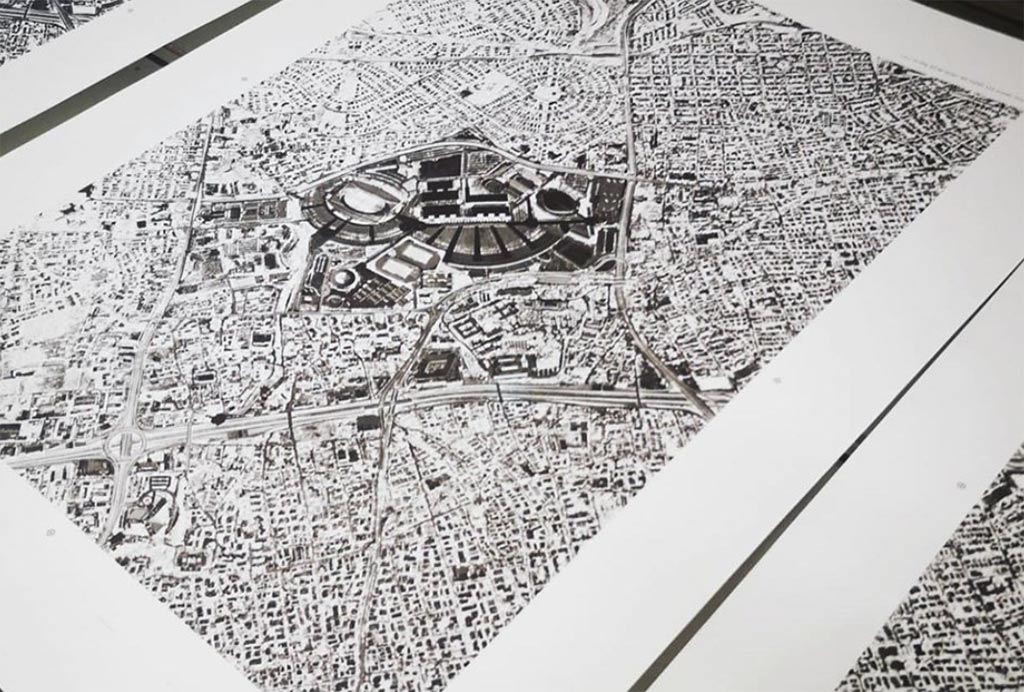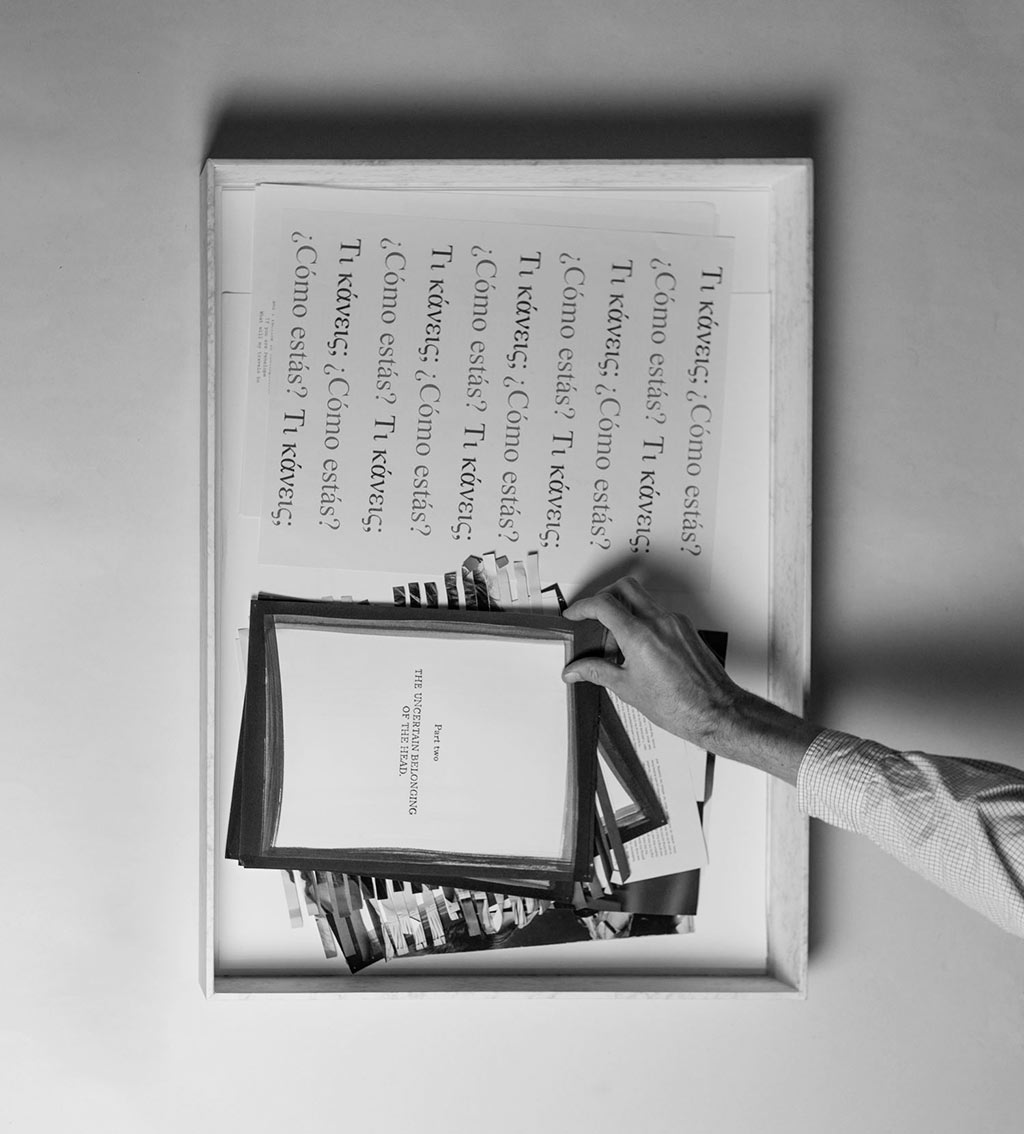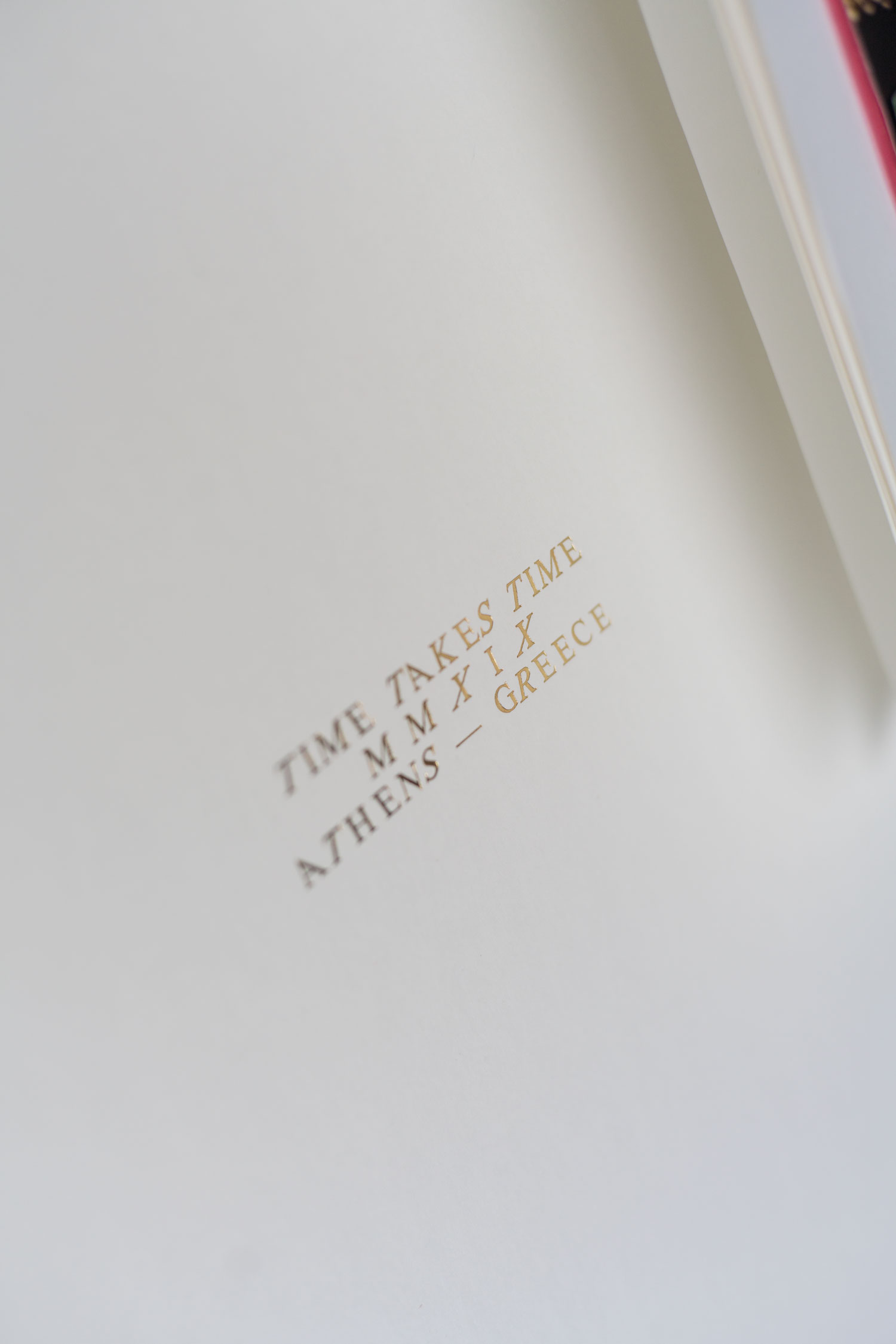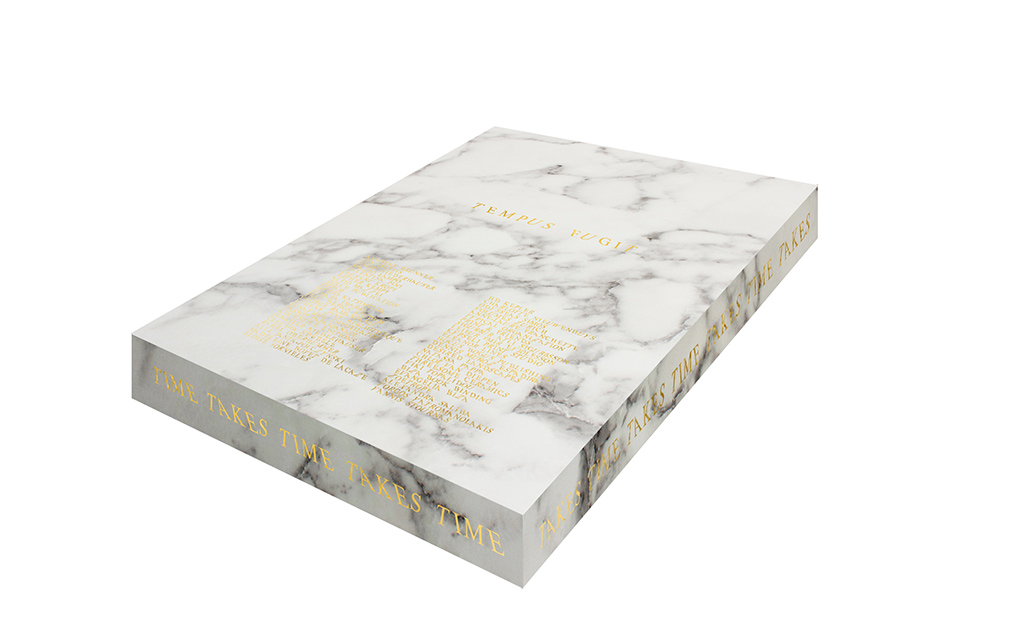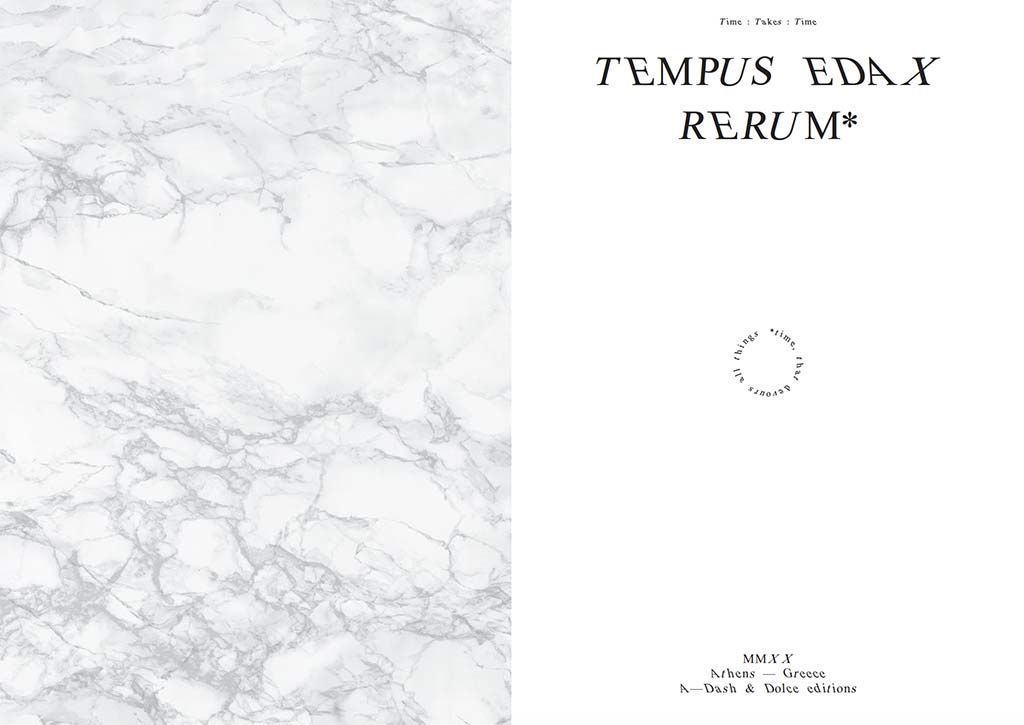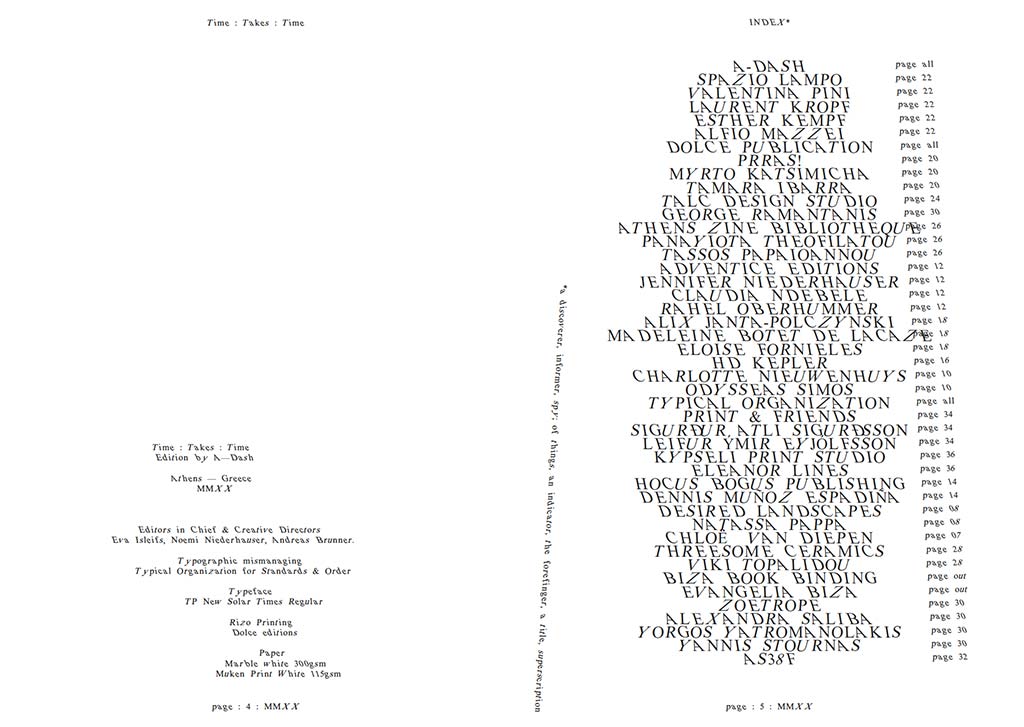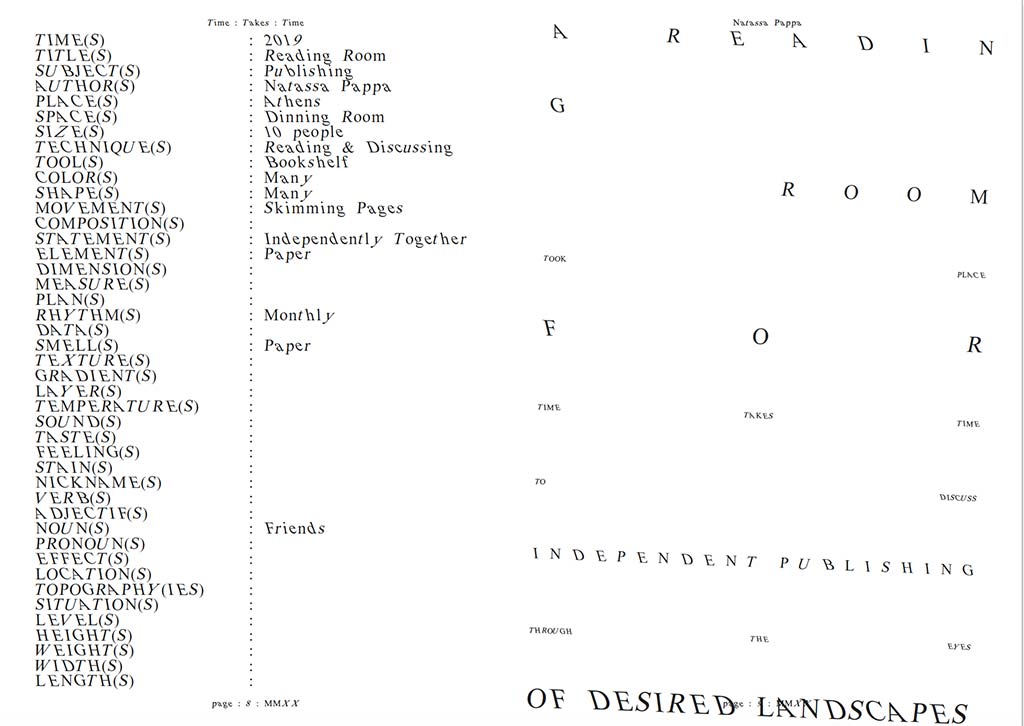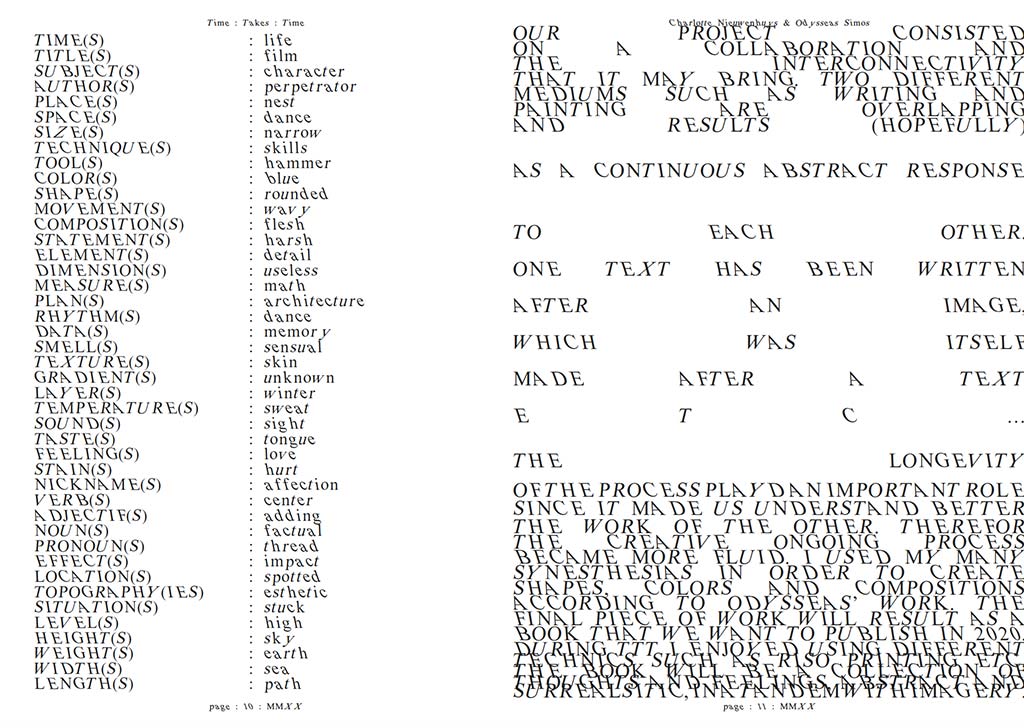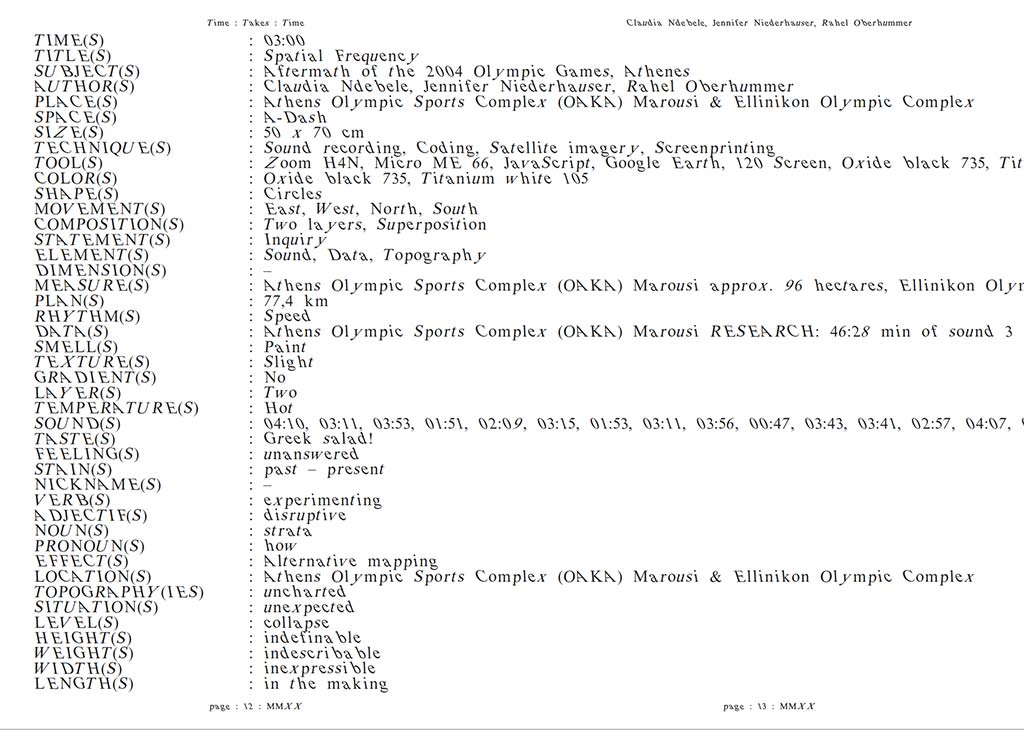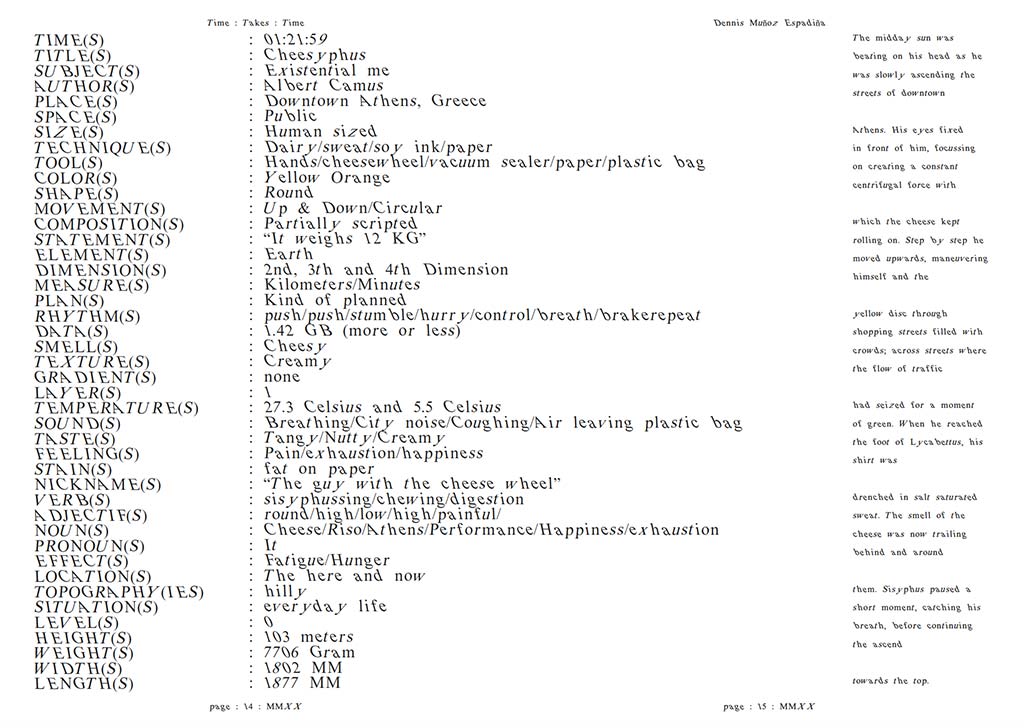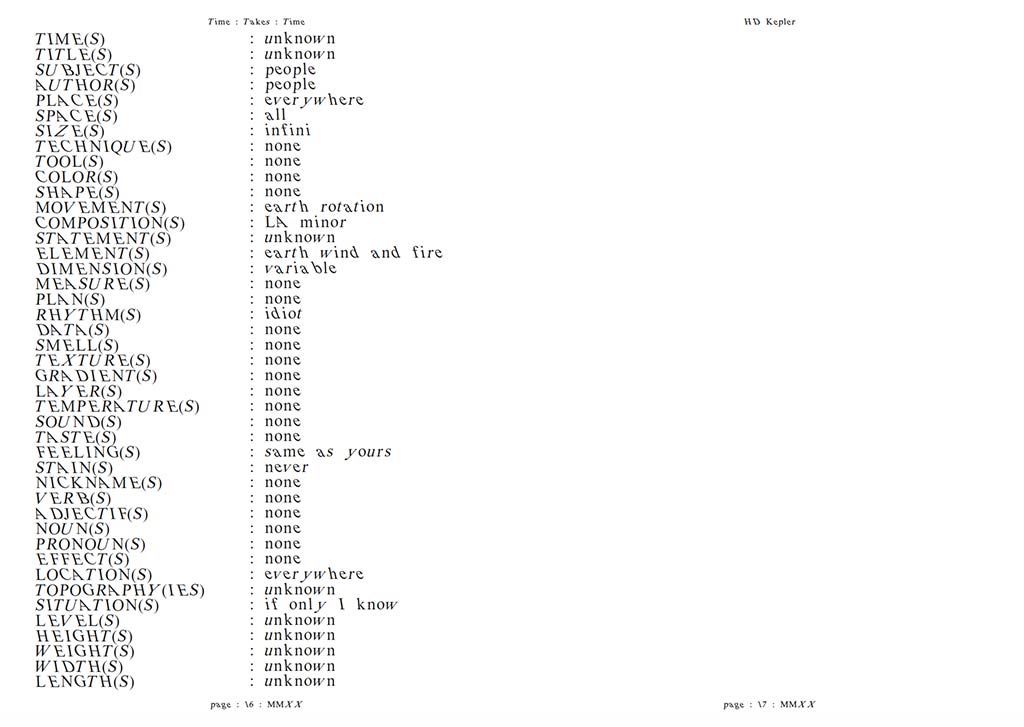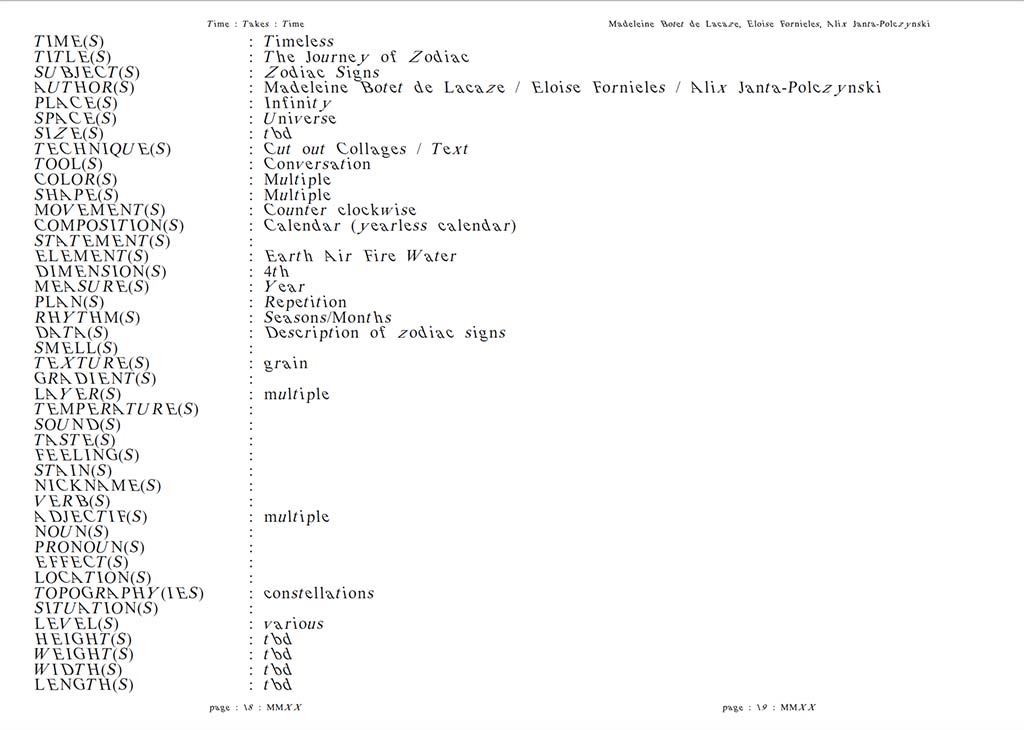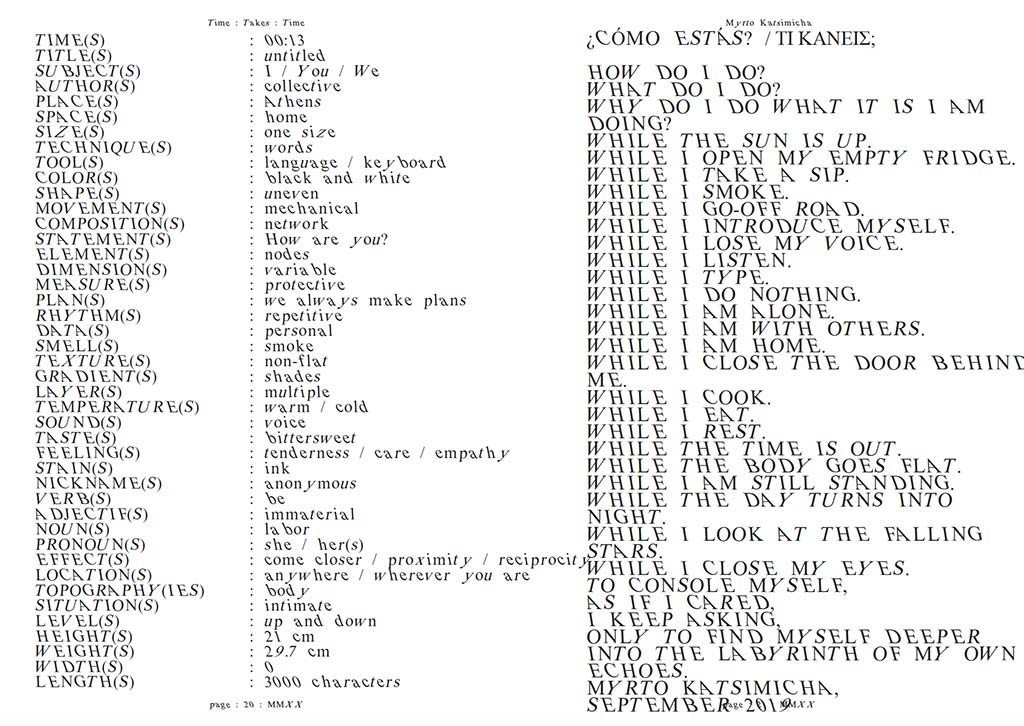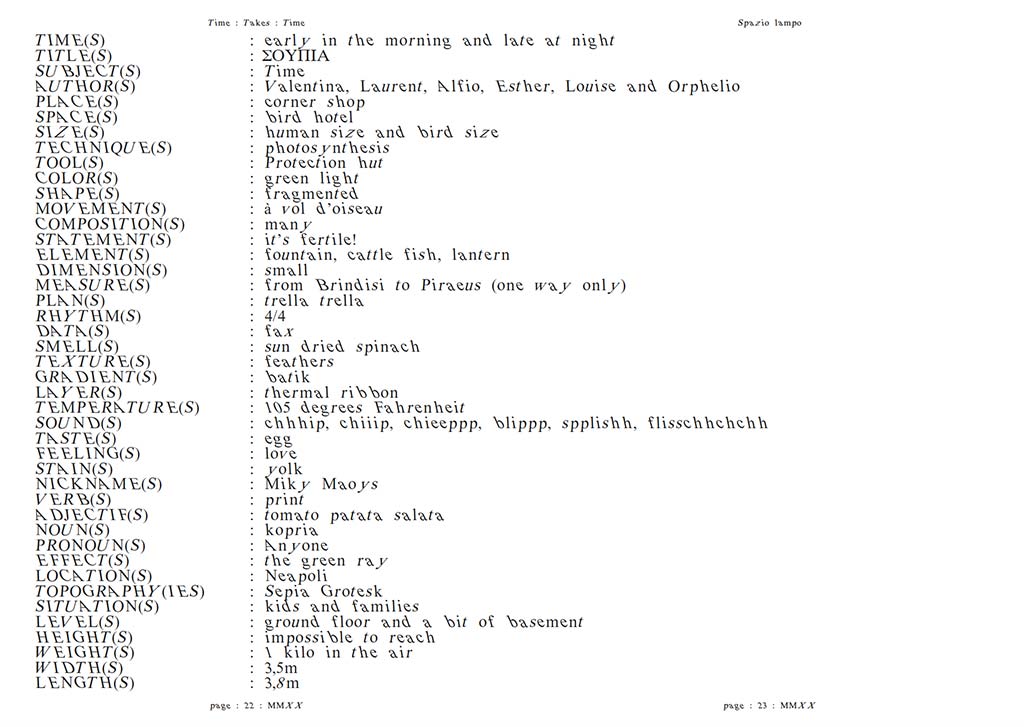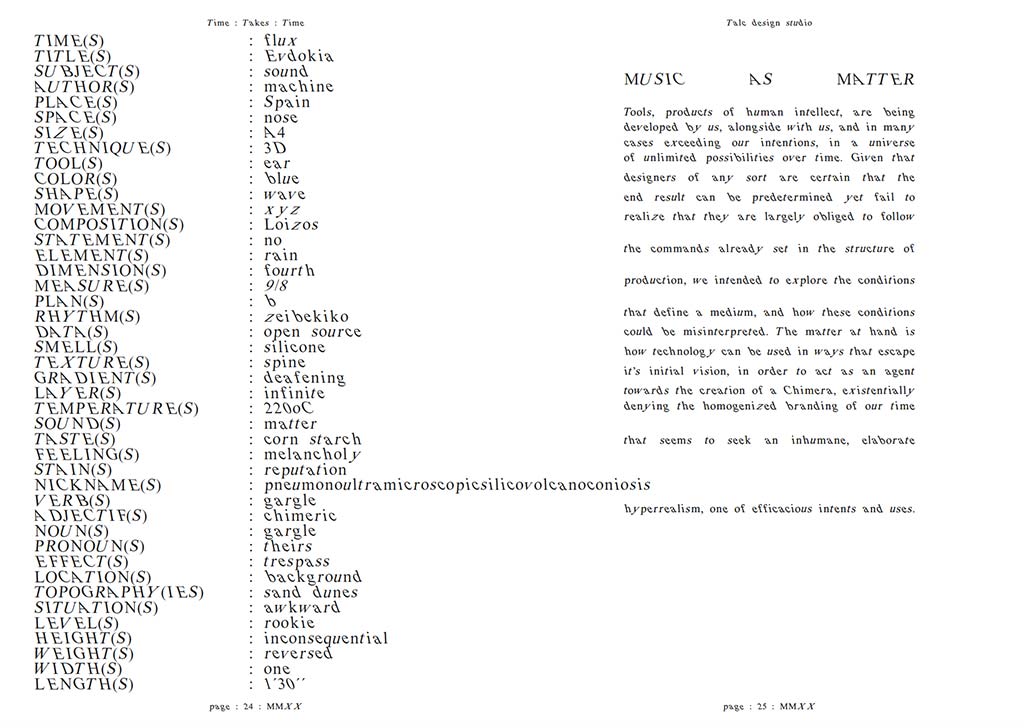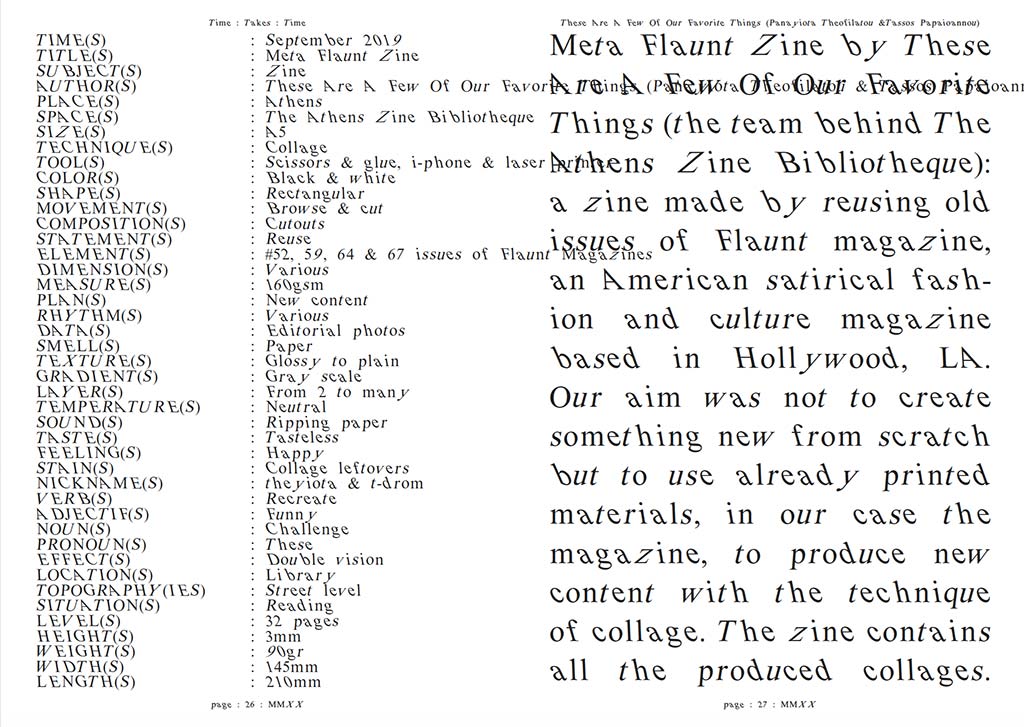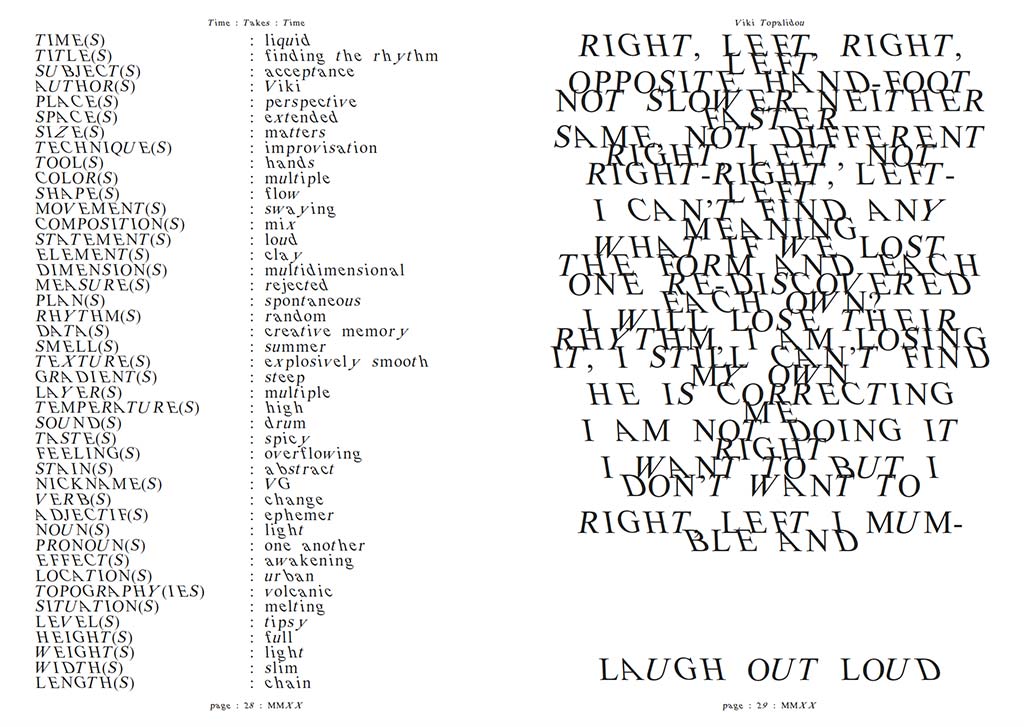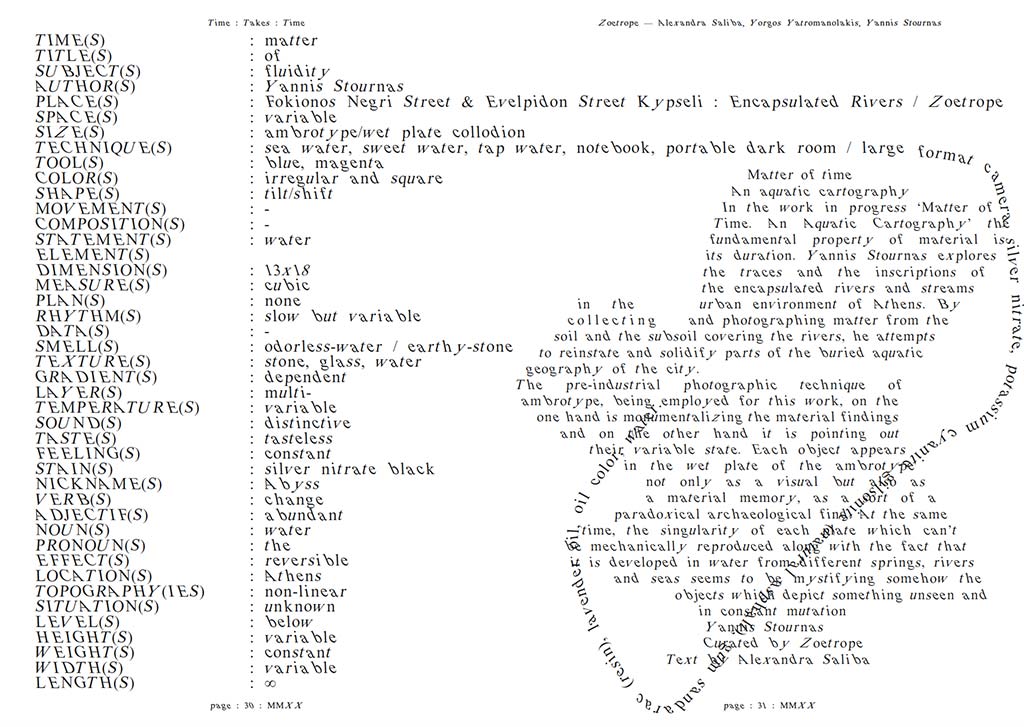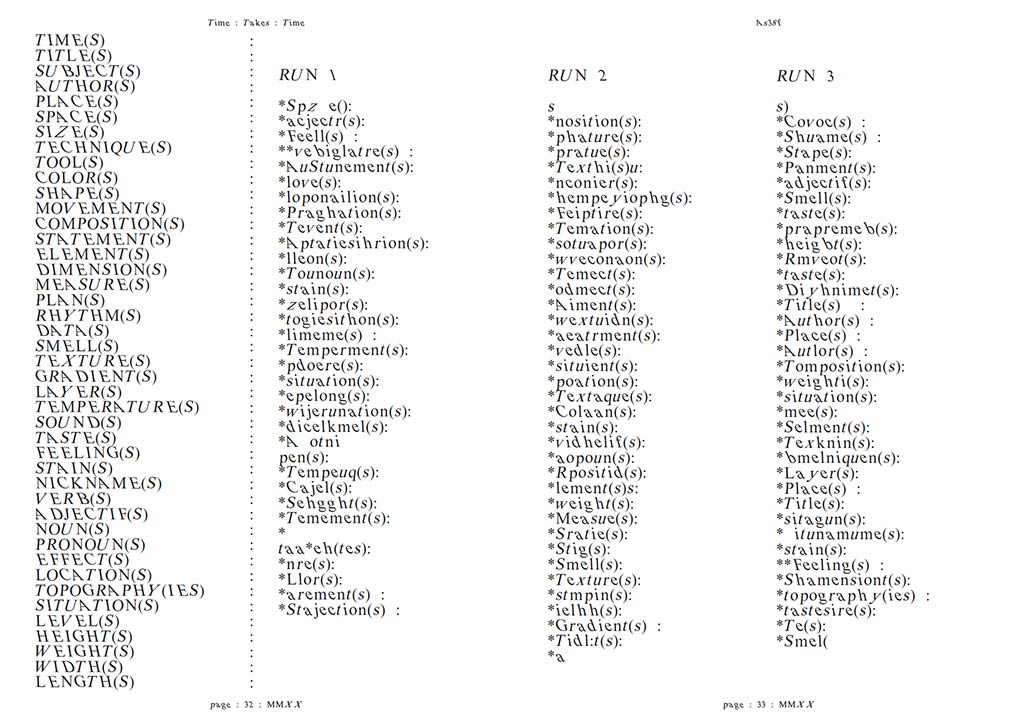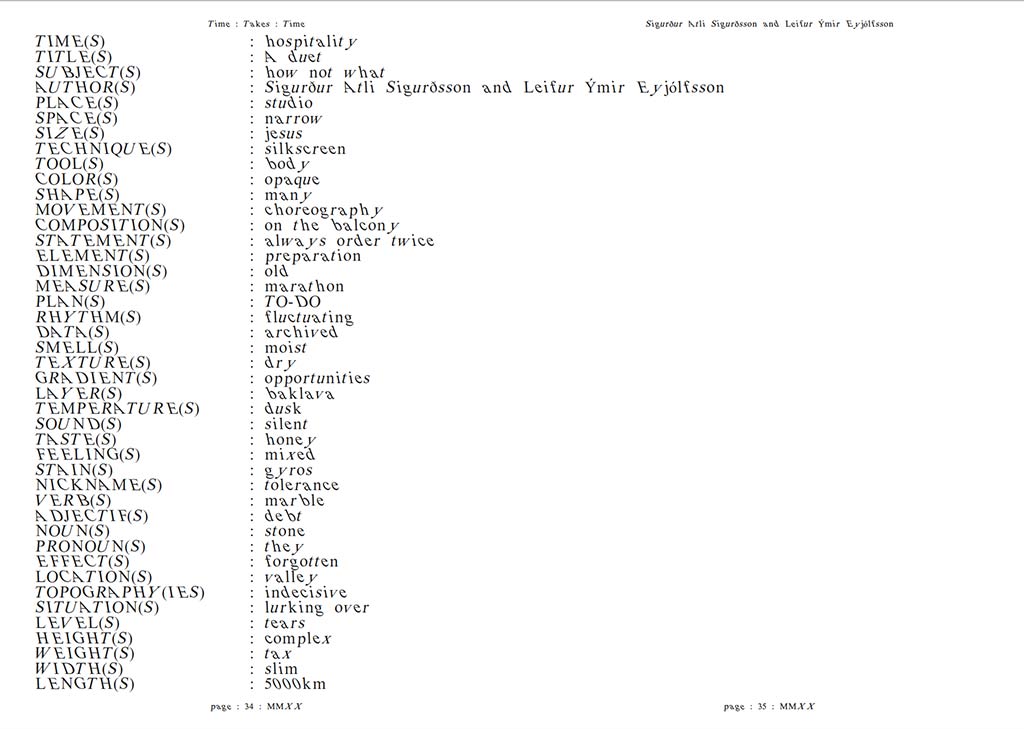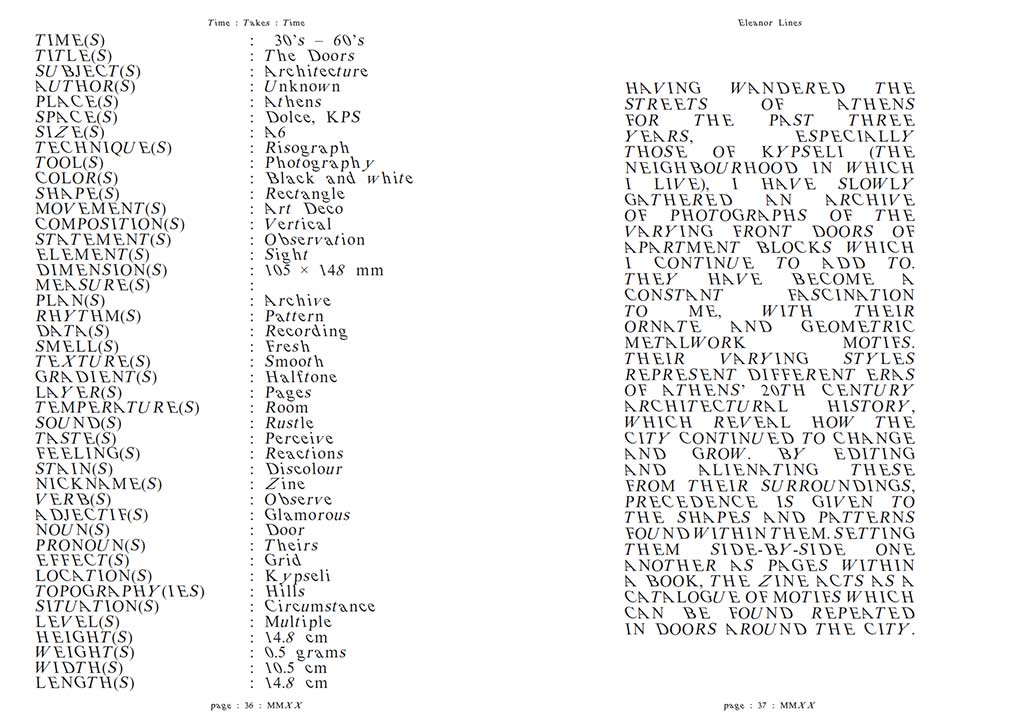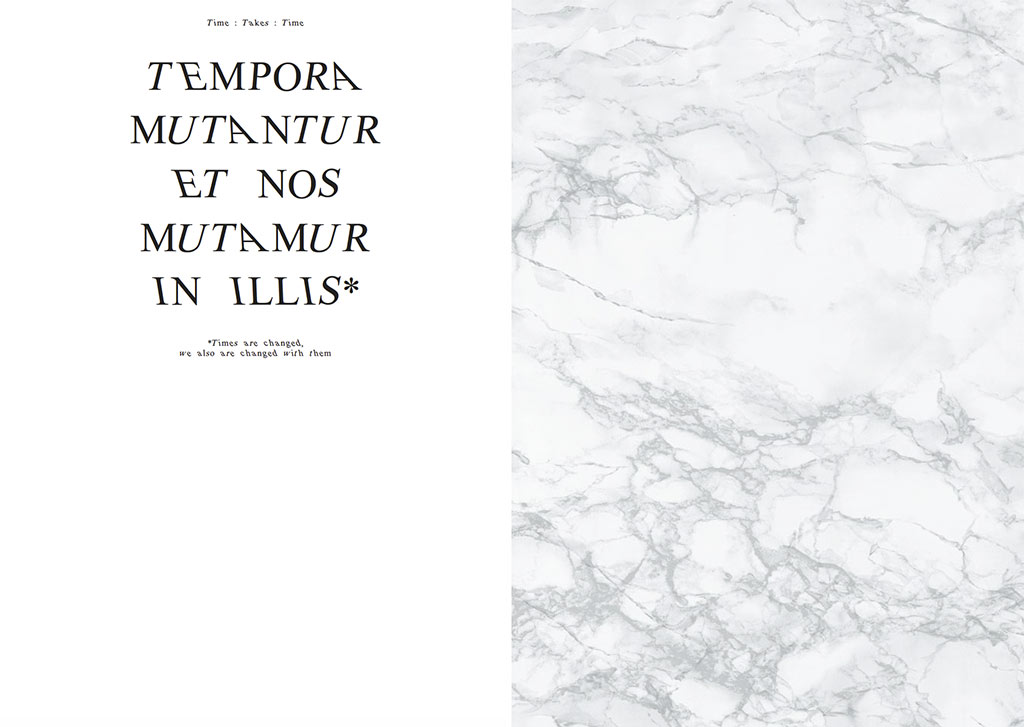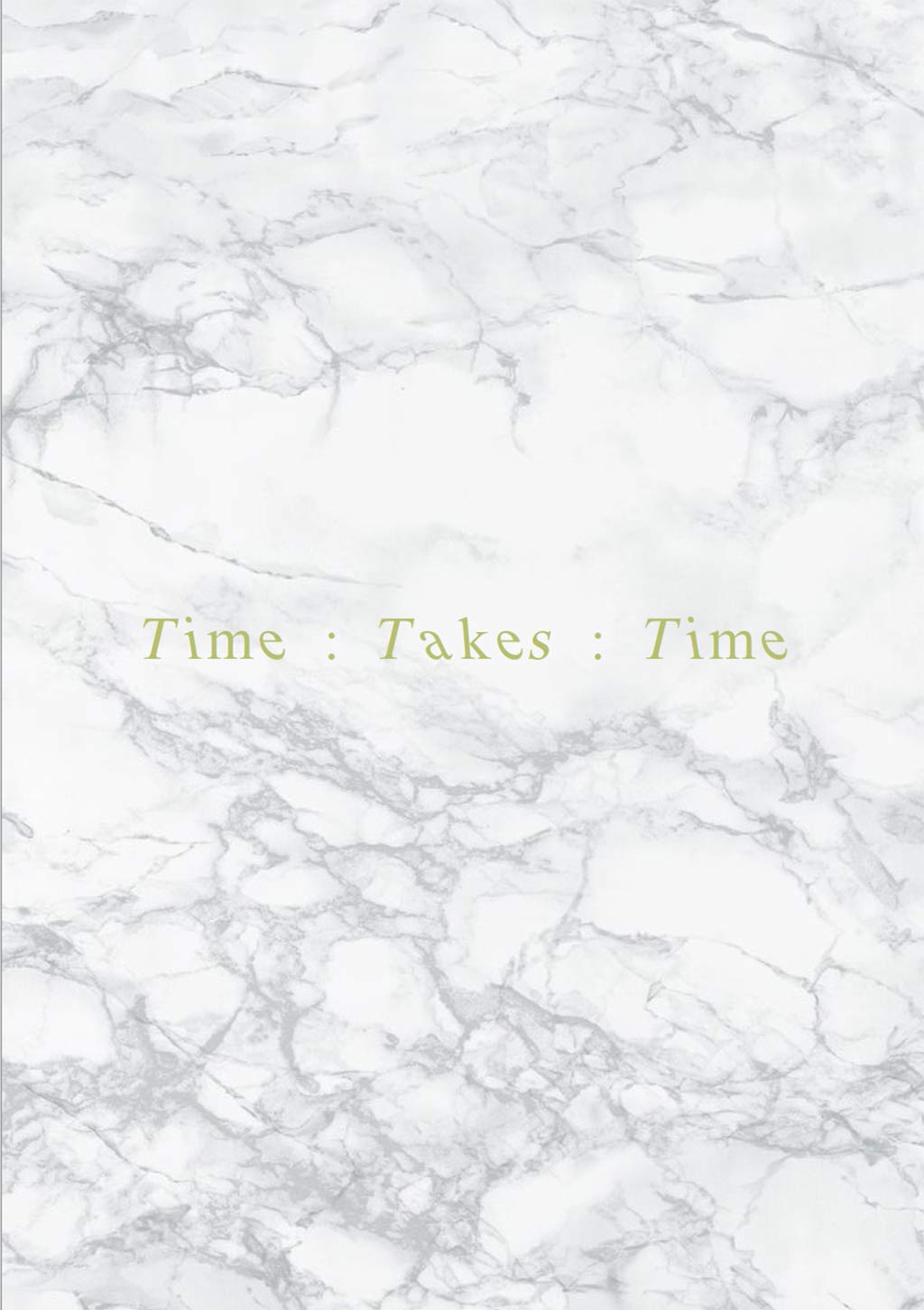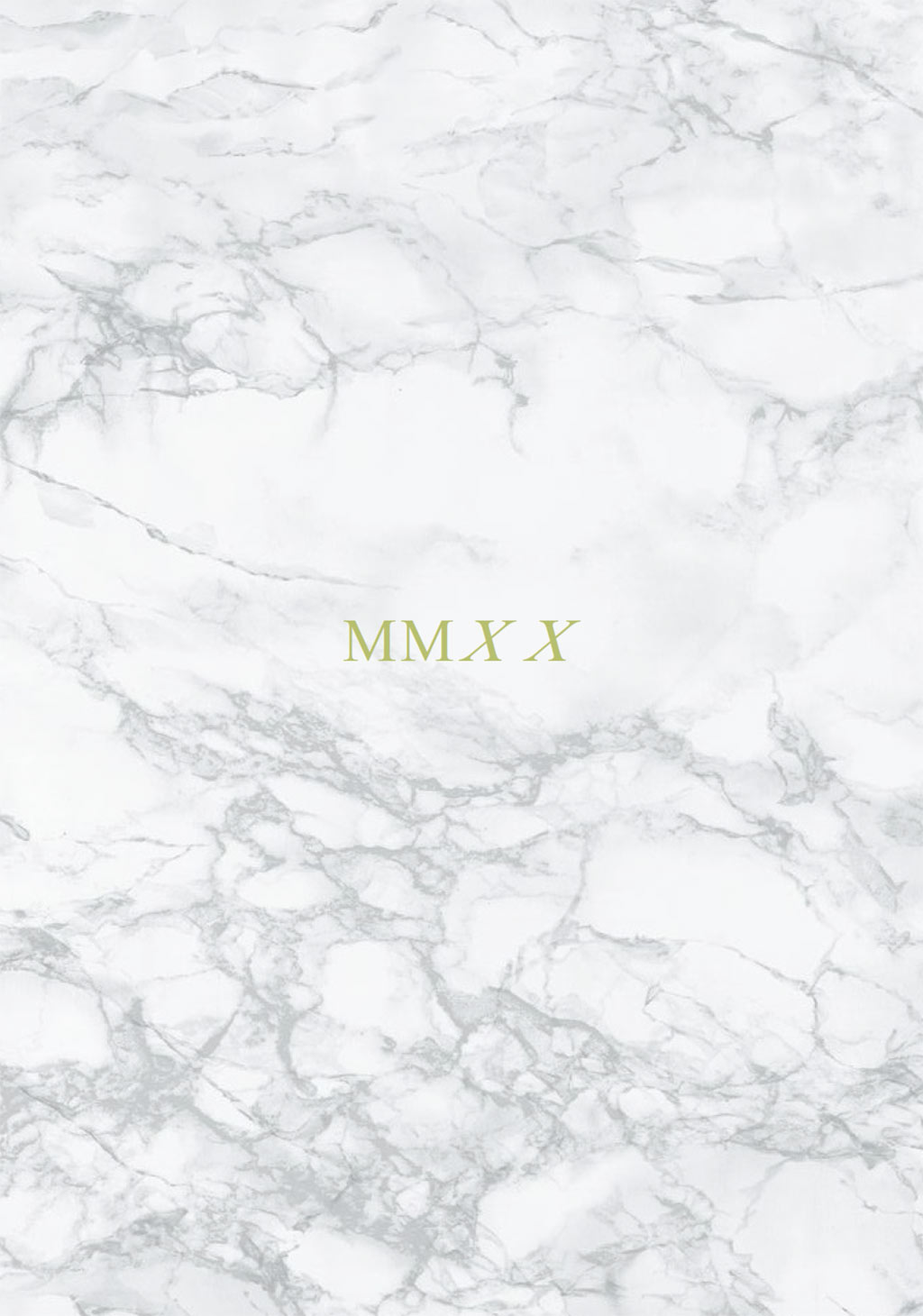 Time Takes Time
2019-2020
Printed publication: Time Takes Time, Vol.1
Art Direction and concept: Eva Isleifs, Noemi Niederhauser, Andreas Brunner as part of A-DASH program
Design by Typical Organization, Athens (GR)
Riso printed and published by DOLCE publishing, Athens (GR)
Book binding by Evangelia Biza, Athens (GR)
Mother Book: 1 exemplar
Leaflets accompanying the Mother Book: 500 exemplars
Time Takes Time_a momentum around paper & words with a focus on the processes, materiality, touch and smell of prints, letters, inks and stained fingers.
Time Takes Time connects Greek and international artists and designers for a moment of co-creation within various workshops and print studios around the city of Athens. It takes place within strong local-global interconnections and seeks to weave between them a relationship. Time Takes Time operates as a weaving of points of view, techniques, skills, and imaginaries. It merges layers of technologies from print ambrotypes, fax machine thermal ribbon, up to 3D printing and algorithm data poetry. Time Takes Time, combines diverse intimate feelings and subjective relations to the city of Athens through the lens of printed matter, as to let waves of resonance emerge between alternative but complementary processes of work.
Time Takes Time organized city walks through its interconnected workshops and spaces to allow the various processes to be experienced by the public.
The subsequent publication: Time Takes Time. Vol.1 aspires to grasp the floating mood and atmosphere of this collective momentum. It is infused by reflections, words, visuals and material experiments collected from the artists throughout the workshops days. Time Takes Time. Vol.1 questions and explores numerous ecologies of co-existence and their potential for unification from within the limited conditions of collaborations between different artists with distinct skills. The publication creates a space of reflection that favours the multiplicity of voices; a « grammatical mode of relativity » through converging collaborative resonances and dissonances.
Participating artists:
I. Spazio Lampo, Chiasso (CH) spaziolampo
Valentina Pini, Zurich
Experimental dyes, Cuttlefishes and bones capillarity.
Laurent Kropf, Lausanne
Writing new titles for an unfinished novel.
Esther Kempf, Zurich
Exploring water pipes – invisible connection between the people of a city.
Alfio Mazzei, Chiasso
Coral's images, fax machine, thermal ribbon.
II. DOLCE Publication,  Athens  (GR) dolcepub 
Theofanis Dalezios : Risograph printing and publication house. 
III. Myrto Katsimicha & Tamara Ibarra / Prras!, Athens, Mexico City (GR, MX) Visibility to female art workers through the art of letter writing. 
IV. Talc Design Studio, Athens (GR) talcdesignstudio
Bending time and bringing new life through spatial printing. 
V. George Ramantanis, Athens, (GR)
Poetry machine transcribing digital data into poetry. 
VI. The Athens Zine Bibliotheque, Athens (GR) theathenszinebibliotheque
Panayiota Theofilatou & Tassos Papaioannou Self-published art zines,
VII. Jennifer Niederhauser, Claudia Ndebele & Rahel Oberhummer,  Lausanne (CH)
jennifer-niederhauser-schlup  raheloberhummer adventice-editions
Translating sounds as a code onto printed matter. 
VIII. Alix Janta-Polczynski, Madeleine Botet De Lacaze & Eloise Fornieles (BE, FR, GR) Brussels, Paris, Athens
Finding another way to decipher our human experiences using the elements of western astrology. 
IX. HD Kepler, Lyon, Athens (FR, GR): Florent Frizet & Eleni Riga hdkepler Transcription from printed matter into performative scores, body memory, imprint. 
X. Charlotte Nieuwenhuys & Odysseas Simos, Brussels, Athens (BE, GR)
Poetry describing visual matter, visual matter describing poetry. 
XI. Anne-Laure Franchette, Zurich (CH)
Self-publishing books, founder of Volumes Art Book Fair, Zurich. volumeszurich
XII. Typical Organization, Athens (GR): Joshua Olsthoorn & Kostas Vlachakis
typical-organization Overviewing and editing of the publication of Time Takes Time. 
XIII. Prent og Vinir / Print & Friends, Reykjavik (ISL): Sigurður Atli Sigurðsson & Leifur Ýmir Eyjólfsson
Creating choreographic work about the process of printing. 
XIV. Kypseli Print Studio, Athens (GR): Eleanor Lines kypseliprintstudio
Silkscreen printing, research on ornamental patterns and crossing lines.  
XV. Hocus Bogus Publishing, Amsterdam (NL): Dennis Muñoz Espadiña boguspublishing.bigcartel
Performing empiric experiments of Camus allegorical metaphysics. 
XVI. Natassa Pappa, Athens (GR) desired-landscapes
Using the city as a source or as a medium, in order to create narratives and experiences through graphic design. 
XVII. Chloë van Diepen, Amsterdam  (NL)
Creating a reciprocal space that is intersubjective and built from our senses. 
XVIII. 3some Ceramics, Athens (GR)
Canvas of clay, print of bodies. 
XIX. Biza Book Binding, Athens (GR): Evangelia Biza
Designer, bookbinder, paper and book conservator. 
XX. Zoetrope (GR) Athens: Alexandra Saliba & Yorgos Yatromanolakis zoetropeathens
Zoetrope focuses on photography, film and artist books. 
XXI. Yannis Stournas, Oxford, Athens (UK, GR)
Wet plate collodion, large format camera, prints ambrotypes. 
XXII. As38f, Athens (GR): poetry machine made by George Ramantanis
Έπαιξα κάποτε στο δαυτικό σκαλουμπισμό χέρι της γυναίκας